11th Latin American Festival Press Release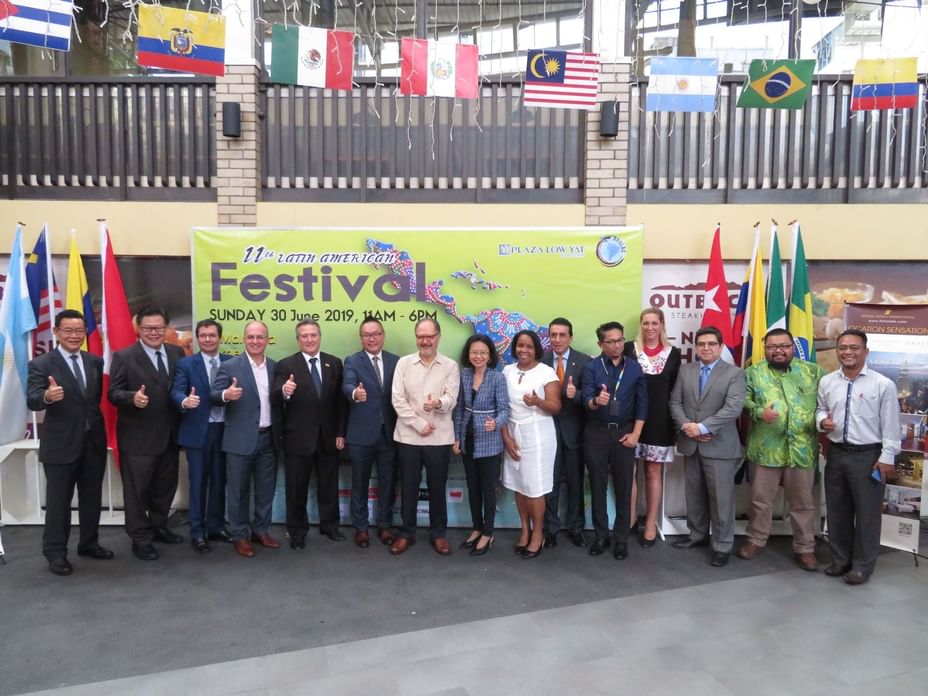 Mr Michael Lee, General Manager of Plaza Low Yat and bbpark said "I am honoured that the Latin American Embassies have chosen bbpark once again for the 11th Latin American Festival for the 9th consecutive year at bbpark. Together, Dewan Bandaraya Kuala Lumpur (City Hall Kuala Lumpur), Plaza Low Yat, the Federal Hotels International (FHI) Group of Hotels namely The Federal Kuala Lumpur, Hotel Capitol Kuala Lumpur and Tribeca Serviced Suites Bukit Bintang, and the Latin Women's Association of Malaysia are proud to collaborate with all the 11th Latin American Embassies namely Argentina, Brazil, Cuba, Columbia, Ecuador, Mexico and Peru in making this 11th Latin American Festival a massive success. The 11th Latin American Festival 2019 has a lot to offer with an array of cultural extravaganza; ranging from music, food, art, craft, dance to costumes. Bukit Bintang has always been the main tourist hotspot in Kuala Lumpur. The theme this year, "Latin America Meets Malaysia" echoes the approach of the annual Latin American Festival as the Latin American & Caribbean countries are filled with a colourful diversity; through food, arts, music, culture and heritage; and through this festival, we will share this wonderful experience to the local and expatriate community in Malaysia. We are sure it will be an eye-opening and fun-filled experience for everyone at the Latin American Festival. BB Park presents the colourful diversity of our rich Malaysian culture, food, arts and heritage to the world, and is also the cultural exchange point where the world can come together to share its many different cultures and heritage with the local and expatriate community as well as tourists. The 11th Latin American Festival at BB Park is a living and colorful testament of BB Park's celebration of life, art, food and culture. BB Park plays host to the annual Latin American Festival and promises all the thrills in its 11th annual outing, making Bukit Bintang Central even livelier! Stage performance includes tango from Argentina, capoeira from Brazil, Latin music and traditional dance from Mexico, Andean music from Peru, along with multi-coloured costumes. Other activities include street dances, henna tattoo, tourism information on Latin American & Carribean countries and attractive lucky draw prizes that include the Grand Prize of a Two Return Air Tickets to Mexico City or Cancun by Turkish Airlines and many more for visitors to see, taste, and enjoy the biggest Latin American celebration in Malaysia. This is the celebration of cultures that is filled with merry and flair! BB Park has now become a place where tourists and KLites alike drop by to enjoy music, cultural dance, live band as well as to wine and dine or chill out in the many food and beverage outlets, and it has evolved into a hub where contemporary lifestyle and culture meet. We would like to thank our tenants for sponsoring lucky draw prizes comprising of cameras, smart phones and the latest IT gadgets from the tenants of Plaza Low Yat namely AMS, House of Leather, Kexwoode and SNS Network.
Ms Ooi Lee Ping, Director of Group Marketing, Regional Sales & Business Development and Operations of Federal Hotels International said "The 11th Latin American Festival Malaysia is set to bring the diversity of tastes and rhythms from Latin America and the Caribbean with a colourful event at bbpark. We are pleased to join the Group of Latin American Embassies in Malaysia to once again celebrate the 11th Latin American Festival as this is a great opportunity for all to experience the rich culture of Latin America, handmade arts & crafts, traditional music & dance, as well as have a delicious taste of Latin American flavors of each of these vibrant Latin American Countries. We understand that this year's festival theme is "Latin America Meets Malaysia", which is one way to further strengthen the bonding between Malaysia and the Latin American Countries. The Rhythms and music of Latin America will set to bring you the myriad of the region's beats such as salsa, mambo, merengue, rumba, bachata, tango, cumbia, joropo, samba, condombe. Malaysia is blessed with diverse culture. The promotion of various festivities and cultural element will further boost tourism and in this spirit, the 11th Latin American at BB Park will spice up Bukit Bintang and Kuala Lumpur City once again with its magical display of vibrant colors and pulsating vibes of Latin American music and rhythms, food, dances be it Salsa, Samba or Tango, art & craft as well as handicraft from the continent. This is a great opportunity for Malaysians to experience the rich culture and get an authentic taste of Latin American cuisine whilst at the same time spreading a l ittle spirit of
cheer and kindness as proceeds from this Latin American festival will be channeled to Charity namely Society for the Rehabilitation of the Disabled of Selangor & Federal Territory (PPOC), a charity organization founded in 1972. Also known as Rumah Insaniah Dr. Siti Hasmah (Sheltered Workshop), PPOC provides vocational training for persons with Physical disabilities, intellectual disabilities and hearing impairment ages 17 to 40 years. . We are most happy to work in strategic partnership this meaningful incredibly rewarding annual Charity event, which is one of our FHI Group's continuous Sharing & Caring
Community Commitments."

While the Plaza Low Yat boulevard street buzzed with people cheering and dancing, bbpark; a place to celebrate life and culture; was also bustling with a constant flow of human traffic where the public were
having a gastronomic experience with the wide array of delicacies, set up at booths by the participating Latin American and Caribbean countries. Some of the notable food include the Argentinean Beef Empanadas, Alfajores (sweet delicacy of Argentina); Brazillian Conxinhas (chopped or shredded chicken meat, covered in dough, molded into a shape resembling a chicken leg, battered and fried) and Cheese
Bread, Mexican Chicken Tacos, Chicken Gorditas (baked thick tortilla and stuffed with chicken breast, cabbage, cheese and other vegetables), Tlacoyos (Mexican dish made of masa and stuffed with cooked
ground beans),; Cuban coconut pastries, and the menu list goes on. Arts and handicrafts were also featured at the festival. Lucky winners will walk away with attractive lucky draw prizes sponsored by
Plaza Low Yat Tenants. The Grand Prize, Two return air flight tickets to Mexico by courtesy of Turkish Airlines.