14th Latin American Festival Press Conference 2023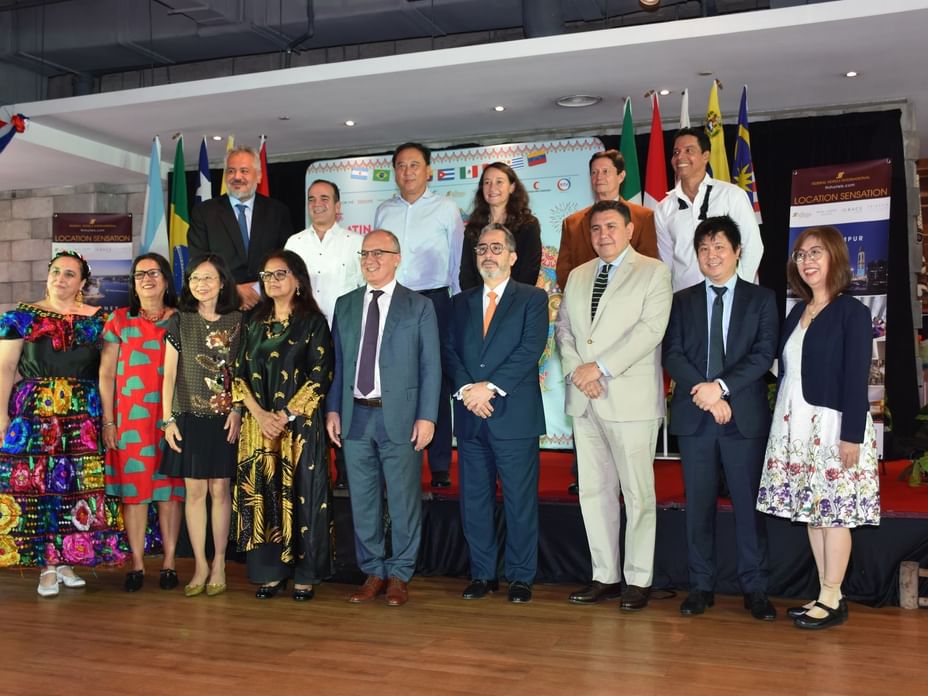 PRESS RELEASE
Tuesday, 16 May 2023
14th Latin American Festival at Commonskl at bbpark on Sunday, 11 June 2023
Ms Ooi Lee Ping, Director of Group Marketing, Sales & Business Development and Operations of Federal Hotels International said "Our annual Latin American Festival is back and promises all the thrills in its 14th annual outing. Commonskl at bbpark will once again play host for the twelfth consecutive year to the vibrant colors and pulsating vibes of Latin America and the Carribean, bringing Malaysia and Latin America closer together, strengthening our friendship and cultural exchange, and making Bukit Bintang Central even livelier. This one-day event celebrates the diversity of culture, tastes and rhythms of Latin America and the Caribbean, a great opportunity for all to experience the rich culture, handmade arts & crafts, traditional music & dance, as well as have a delicious taste and flavors of each of these vibrant Latin America and Caribbean Countries from Argentina, Brazil, Chile, Colombia, Cuba, Mexico, Peru, Uruguay and Venezuela. We hope that this event bridges the gap between both our cultures as we take this opportunity to promote and showcase our Malaysian culture to the Latin American communities as well.
Our journey begun in 2011 when Federal Hotels International together with Plaza Low Yat and bbpark collaborate with the Latin American and Caribbean (GRULAC) Embassies and the Latin Women's Association on the 3rd Latin American Fest held for the very first time at bbpark on Sunday, 22 May 2011, in line with bbpark's "celebration of life, art, food, music, dance and culture", showcasing the rich diversity of culture as well as the many flavours of Latin American, whilst at the same time spreading cheer and kindness raising fund for a very noble cause. This year, all proceeds from the 14th Latin American Festival 2023 will be donated to Rumah Amal Cheshire/Selangor Cheshire Home to finance their Food Cabin Café project, which aims to train young people with disabilities for a future employment in the hospitality industry.
The annual Latin American Festival is a living testament where the world can come together to share its many colourful cultural diversity with the local and expatriate communities as well as domestic and international tourists alike at bbpark, which will continue to be the place for entertainment, dining, social as well as the heart & soul of cultural promotion in the heart of Bukit Bintang. Malaysia is blessed with rich cultural diversity. The promotion of various festivities and cultural element will further boost tourism and in this spirit, the 14th Latin American will spice up Bukit Bintang and Kuala Lumpur City once again. Through this festival, we are also sharing the colourful diversity of our rich Malaysian culture and heritage with the expatriate communities as well as tourists as Bukit Bintang has always been the popular tourist hotspot in Kuala Lumpur. We are most happy to work in partnership this meaningful incredibly rewarding Charity event for the twelfth consecutive year, which is one of our Group's continuous Sharing & Caring Community Commitments.
We would like to take this opportunity to express our deepest gratitude to the City Hall of Kuala Lumpur (DBKL), for granting us authorization for the road closure, as well as providing sponsorship for the stage, musical equipment, lights and sounds for the actual event on Sunday, 11 June 2023. Our thanks also go to the Cultural, Arts and Tourism Team of DBKL in addition to our partners from Commonskl, Malaysian Red Crescent as well as KPJ Healthcare".
For further information, please contact:
Ms Ooi Lee Ping | Director, Group Marketing, Sales & Business Development and Operations
| Federal Hotels International | c/o The Federal Kuala Lumpur| 35, Jalan Bukit Bintang |55100 Kuala Lumpur
|Tel: +60-3-2148 0468 |Email: olp@fhi.com.my |Website: www.fhihotels.com
OR
Duncan Choy, Assistant Manager, E-Marketing & Business Development
| Federal Hotels International | c/o The Federal Kuala Lumpur| 35, Jalan Bukit Bintang |55100 Kuala Lumpur
|Tel: +60-3-2148 0468 |Email:: duncanchoy@fhi.com.my |Website: www.fhihotels.com
OR
Mr Sean Aw, Assistant Manager – Digital Marketing, Events & Communications
4-008, Level 4, Plaza Low Yat, No.7, Jalan Bintang, Off Jalan Bukit Bintang, Bukit Bintang Central,
55100 Kuala Lumpur |Tel: (603)-2148 3651/3724/5141 | Email: seanaw@plazalowyat.com |Website: www.plazalowyat.com