3rd Latin American Festival at BB Park, Bukit Bintang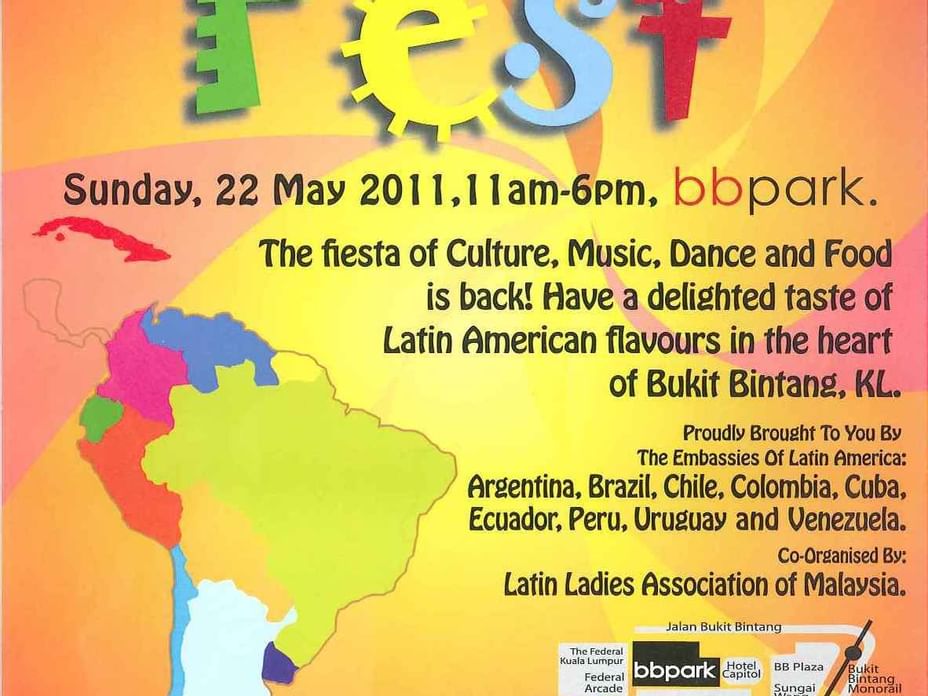 On Sunday, 22 May 2011, BB Park will play host to the vibrant colors and pulsating vibes of Latin America, making Bukit Bintang Central even livelier. The annual Latin American Fest is back and promises all the thrills in its 3rd annual outing!
Organised jointly by the Embassies of Argentine, Brazil, Chile, Colombia, Cuba, Ecuador, Peru, Uruguay, Venezuela and in collaboration with the Latin Ladies' Association of Malaysia, with the support from BB Park and The Federal Kuala Lumpur, this will be an exclusive opportunity for all to experience the culture, arts & crafts, music & dance, as well as have a delicious taste of Latin American flavors .
It is a celebration of cultures that is filled with merry and flair whilst at the same time spreading a little spirit of cheer and kindness as proceeds from this Latin American fest will be channeled to UNICEF in aid of the under privileged children of Haiti.
BB Park presents the colourful diversity of our rich Malaysian culture, food, arts and heritage to the world, and is also the cultural exchange point where the world can come together to share its many different cultures and heritage with the local and expatriate community as well as tourists . The 3rd Latin American Fest at BB Park will be a living and colorful testament as it is in line withBB Park's "celebration of life, art, food and culture". BB Park has now become a place where tourists and KLites drop by to enjoy music and cultural dance, live band which are held regularly as well as to wine and dine in the many food and beverage outlets, and now it has evolved into a hub where contemporary lifestyle and culture meet, and the place to dine or chill out!
About BB Park
BB Park will continue its transformation in line with the changing lifestyle and landscapes of Kuala Lumpur, it will continue to be the place for entertainment, dining, shopping as well as the heart & soul of cultural heritage in the heart of Bukit Bintang. The al-fresco styled BB Park epitomizes the multi-faceted cultures infused with sprinklings of a global One Malaysia. It is the urban oasis, where one can just relax and chill out, or catch up with family & friends over drinks or enjoying the many flavours of local, regional and international cuisines, all within the soothing tropical greens. At the same time, be entertained by the live band and music, modern as well as cultural shows during the weekends. Staying true to its Malaysian heritage, this is a section in BB Park that is dedicated to the arts and crafts of Malaysia. This is one place where Malaysians share the colours and richness of our rich Malaysian heritage and culture with the world.
About The Federal Kuala Lumpur
The Federal Kuala Lumpur is more than a Hotel. It's a piece of Malaysian History & Heritage, and it's the Hotel for Merdeka. The Federal Hotel celebrates its birthday as the Nation celebrates its Independence Day in August each year. Merdeka Day has always been part of Federal Hotel's history as the Hotel was built specifically to serve the needs of our Nation. The Federal Hotel first opened its doors on 28 August 1957 to welcome all VIPs, foreign dignitaries and diplomats who arrived in Kuala Lumpur to witness Malaya celebrate her independence on 31 August 1957.
The Federal is located in the City's Central Business District with a fascinating variety of shopping, dining & entertainment opportunities within walking distance. These include bbpark, an open-air bazaar with excellent dining and shopping options, and Plaza Low Yat, KL's IT speciality centre or popularly known as Malaysia's largest IT liestyle mall. A few minutes' walk away are such diverse offerings as Jalan Alor, the famed street food haven, and ten of KL City's most popular shopping malls are in the vicinity or right next door.
The Federal is a welcome home away from home for those who appreciate and value a tradition of excellent in hospitality.