Breaking of Fast with the Children together with the Celebrities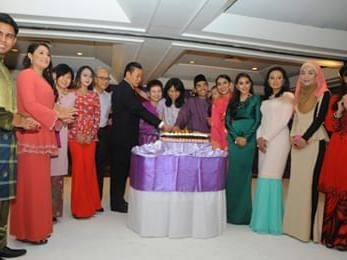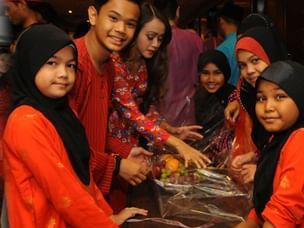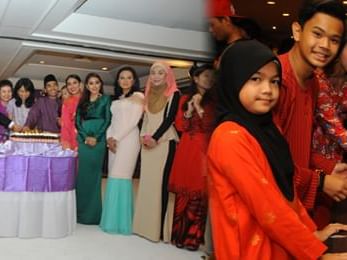 Ms Ooi Lee Ping, Director of Group Marketing, Sales & Business Development and Operations of Federal Hotels International said "The holy month of Ramadhan is a time for tradition, a time of sharing and giving. To celebrate the spirit of the holy month of Ramadhan, Federal Hotels International (FHI) and FHI Group of Hotels in Kuala Lumpur namely The Federal Kuala Lumpur and Hotel Capitol Kuala Lumpur are most happy to once again work for the third consecutive year in strategic partnership with Aquila Emas to jointly organized a Majlis Berbuka Puasa for the children from Rumah Bakti Cahaya Hati dan Pertubuhan Rahoma Darul Fakir, to share with the Children the traditions of Ramadan. The children will be greeted by the Teams from Federal Hotels International and FHI Group of Hotels together with the Celebrities from Aquila Emas amidst a traditional setting of the Negeri Sembilan Minangkabau Kampung House with distinctive elegant curved roofline, located at the Ground floor Hotel lobby at the main entrance fronting Jalan Bukit Bintang. Meeting the children, talking to them and getting to know them is incredibly rewarding and truly promote the spirit of Ramadan as we wanted the children to know that we care and remember them during this happy festive season. There is no greater joy than seeing smiles on the faces of the children, and we are indeed delighted to have all the Celebrities to join us to spread this festive cheer and promoting togetherness. This festive Charity event is part of our Federal Hotels International Group's continuous Sharing & Caring Community Commitments, and it gives us the opportunity to share our warm gracious Malaysian Hospitality with the children. We have always encouraged our teams to help make a difference to those in need. We would like to thank Reliance Sightseeing for generously providing the transportation for the children. All 50 children from Pertubuhan Rahoma Darul Fakir and Rumah Bakti Cahaya Hati will be treated to a sumptuous Citra Rasa Malaysia wholesome buffet spread of local dishes from all corners of Malaysia. The Children will have a funfilled time dining together with Celebrities Zizan Nin, Mardiana Alwi, Fimie Don, Serina Redzuawan, Anis Al Idrus, Hiera, Zyra Sabri, Liza Abdullah, Tania Zara, Ixora Chern, Shasha Al-Khrel, Airis Yasmin, Lana Nodin, Anne Abdullah, Akhmar Ridwan, Riaz Sopian and Zaza Assan."
"This festive charity treat is part of our FHI Group of Hotels' corporate social responsibility commitment. Our Federal Hotels International & Hotel Management Teams will distribute duit raya together with the Team & Celebrities from Aquila Emas to the children of Pertubuhan Rahoma Darul Fakir and Rumah Bakti Cahaya Hati.The Federal Hotel's team of Chefs have specially prepared appetizing Citra Rasa Malaysia dishes such as tomatoes rice, satay bakar with satay kuah; bubur lambuk ayam,; and many more as well as Telur Masak Manis and Sotong Masak Kuning dengan Ubi Kentang from Favourite Dishes from the Tunku's Kitchen or Hidangan Kegemaran Dari Dapur Tunku, most importantly, this legacy cookbook is our Federal Hotels International and The Federal Kuala Lumpur's tribute dedicated to our Malaysia's beloved first Prime Minister or our Father of Independence, Y.T.M. Tunku Abdul Rahman. Other equally delectable dishes are Ramli Chicken or Beef Burger; Rojak Mamak Penang, Lamb Leg with Bukhari Rice Arab Style, Daging Bakar, Ayam Goreng Berempah, Chicken Rice with condiment and mouth watering desserts such as the varieties of local Malay kuih, jelly, assorted cakes, ice cream with condiments" said Mr Simon Leong, General Manager of The Federal Kuala Lumpur.
"It is a joy to bring everyone together to break fast with the children from Pertubuhan Rahoma Darul Fakir and Rumah Bakti Cahaya Hati together with the celebrities. We wanted to celebrate and share in the festive joy and goodwill with the children and give them a memorable Ramadan" said Mr Louis Sebastian, Executive Assistant Manager of Hotel Capitol Kuala Lumpur.
The holy month of Ramadhan is a time for tradition of sharing and giving as well as to welcome the arrival of a joyous Hari Raya Adilfitri, a very special occasion for family, relatives and friends reunion, get together as well as the traditional Open House for family, relatives, friends and neighbours to join in the festivities and celebrations in the true 1 Malaysian spirit. To celebrate the spirit of Ramadan, the Management and Staff of Federal Hotels International, The Federal Kuala Lumpur and Hotel Capitol Kuala Lumpur together with the Team & Celebrities from Aquila Emas, wish all our Muslim friends a blessed Ramadan, Selamat Berbuka Puasa andSelamat Bersahur.
About Pertubuhan Rahoma Darul Fakir and Rumah Bakti Cahaya Hati
1. Rumah Bakti Cahaya Hati located at No.29 Jalan 7A/7 Bandar Tasik Puteri, 48020 Rawang . Background: the home houses 25 children orphanage aged from 4 years old to 15 years old.
2. Pertubuhan Rahoma Darul Fakir located at No.45 Jalan 2/5A, Taman Melati, Kuala Lumpur. Background: The home houses 50 children from 9 years old to 17 years old.