Bukit Bintang Central Gotong Royong Themed Jom Bersih Bukit Bintang 19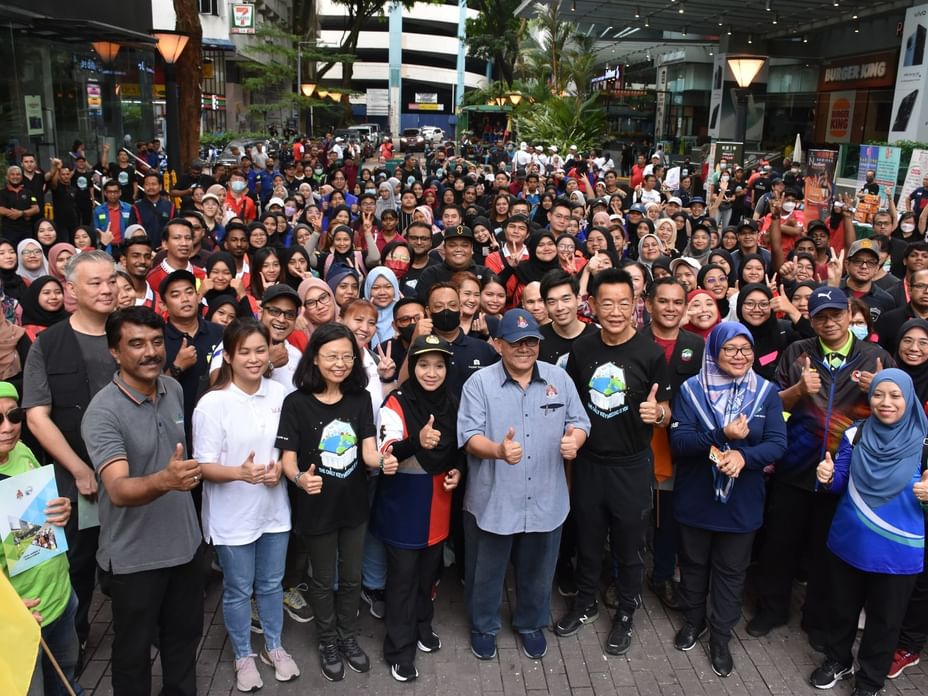 PRESS RELEASE FOR IMMEDIATE RELEASE
Saturday, 27 May 2023
BUKIT BINTANG CENTRAL GOTONG ROYONG THEMED "JOM BERSIH BUKIT BINTANG 19 "We Care"
Mr Simon Leong, Chairman of Bukit Bintang Central Gotong Royong Jom Bersih Bukit Bintang 19 We Care. said
"Time flies, in this very spot, we had our Jom Bersih Bukit Bintang 1, back in 2009 to create awareness on the need to keep Bukit Bintang and its surrounding areas clean. We are in year 15 now. Thanks to everyone present this morning "We" make this Jom Bersih Bukit Bintang 19 possible and we are certain we can all look forward to many more to come. We have willing partners contributing in term of logistic, tools, breakfasts, goodie bags, lucky draw prizes as well as volunteers assisting in the setup. A note of thanks to our partners, sponsors and volunteers for their continuous support todate. We are really grateful to have such overwhelming support again from all of them in this morning's gotong royong, cleaning up of Bukit Bintang Central. We also have qualified partners to share their knowledge on various subjects which we think will be beneficial to everyone. Special thanks to the committee for their inputs and support during meetings in the run up to this event. We also wish to thank the team from Plaza Low Yat, Federal Hotels International, The Federal, Hotel Capitol, Orion light and UKM volunteers in putting things together for this morning's event.
Ms Ooi Lee Ping, Director, Group Marketing, Sales & Business Development and Operations of Federal Hotels International said "Federal Hotels International and our FHI Hotels together with Plaza Low Yat and bbpark are committed to continue spearheading this initiative of such community service to clean-up our beloved Bukit Bintang Central area. We will continue our commitment and collaborative efforts working towards a sustainable environment, promoting the friendly neighbourhood in Bukit Bintang Central area and bring all Malaysians, from young to old, together for a very meaningful cause. Bukit Bintang is the famed tourist belt in Kuala Lumpur, and it is important to continue to boost a clean working and living environment as well as to also spur interaction among the local community and educate our younger generation including students as well our joint responsibility and team work to preserve our environment. Gotong royong is not only on cleaning up the streets but on education and uniting the people, bringing all community from all walks of life coming together as one, working towards the same goal for the benefits of everyone with collaboration between the government and private sectors. This will further instil the spirit of promoting Kuala Lumpur a clean and friendly environment. The Bukit Bintang gotong royong is now in its 23rd year in 2023. Federal Hotels International initiated the first Bukit Bintang Gotong Royong in 2001 together with FHI Hotels (namely The Federal Kuala Lumpur and Hotel Capitol Kuala Lumpur), Plaza Low Yat and bbpark. The objective of the gotong royong then and now is the same as always, to clean up the Bukit Bintang Central area and to educate both the public and students on the importance of keeping our premises in Bukit Bintang and the environment clean and green. Working towards a sustainable environment, promoting friendly neighbourhood in Bukit Bintang Central; constantly maintaining and enhancing a consistent safe and clean image of Bukit Bintang to ensure that both locals and tourists alike continue to visit this attractive tourist destination and very popular shopping, dining and entertaining hub in the heart of Kuala Lumpur are the main core value of organising this gotong royong. A part of our Corporate Social Responsibilities is giving back to the community by nurturing the young as well as our Youth to be part of this very meaningful programme of maintaining and of building a better, cleaner and greener environment together, we take pride that all participants are contributing their time to take part in this massive gotong royong. Our Bukit Bintang Central Environmental Gotong Royong has since drawn continuous support and was renamed Jom Bersih Bukit Bintang 1, back in 2009, and we would like to thank Dewan Bandaraya Kuala Lumpur, LA21, Alam Flora, SWCorp, Indah Water Konsortium, Air Selangor, Partners of LA21 Kuala Lumpur and all our supporting partners in making these gotong royong successful todate as we continue to work together for a better tomorrow."
Established in 2001, Bukit Bintang Central Environmental Committee (BBCEC) started with a few members then, they are namely Federal Hotels International Group of Hotels in Kuala Lumpur namely The Federal Kuala Lumpur and Hotel Capitol Kuala Lumpur, Plaza Low Yat and bbpark, Melia hotel, Royale Bintang Hotel, Bintang Warisan Hotel, Sungai Wang Plaza, Bukit Bintang Plaza, Persatuan dan Penjaja Jalan Alor, Dewan Bandaraya Kuala Lumpur and Alam Flora. We embarked the 1st Gotong Royong with about 250 participants. As the years went by, more establishments volunteered their services. BBCEC is 23 years old in 2023 and it was first initiated by Federal Hotels International (FHI) & FHI Group of Hotels in Kuala Lumpur namely The Federal Kuala Lumpur and Hotel Capitol Kuala Lumpur together with Plaza Low Yat and bbpark. With accomplishment of over 38 gotong royong since its inception, BBCEC is proud to remain committed towards a good cause. Todate, we have with us over 800 to 1,000 strong participants.
BUKIT BINTANG CENTRAL GOTONG ROYONG THEMED "JOM BERSIH BUKIT BINTANG 19 "We Care" covers the areas of Zone 1 to Zone 4:
Zone 1, Jln Bukit Bintang, Jln Bintang, Jln Bulan, Jln Imbi, Jln Sultan Ismail.
Zone 2,Jln Alor, Lorong Alor, Changkat Tong shin, Lorong Tong shin and Changkat Bukit Bintang.
Zone 3, Changkat Bukit Bintang, Jln Nagasari, Jln Berangan, Jln Asoka.
Zone 4. Jln Sultan Ismail, Jln Bukit Bintang, Lorong Sultan Ismail.
For further information, please contact:
Ms Ooi Lee Ping | Director, Group Marketing, Sales & Business Development and Operations
| Federal Hotels International | c/o The Federal Kuala Lumpur| 35, Jalan Bukit Bintang |55100 Kuala Lumpur
|Tel: +60-3-2148 0468 |Email: olp@fhi.com.my |Website: www.fhihotels.com
OR
Duncan Choy, Assistant Manager, E-Marketing & Business Development
| Federal Hotels International | c/o The Federal Kuala Lumpur| 35, Jalan Bukit Bintang |55100 Kuala Lumpur
|Tel: +60-3-2148 0468 |Email:: duncanchoy@fhi.com.my |Website: www.fhihotels.com
OR
Mr Sean Aw, Assistant Manager – Digital Marketing, Events & Communications
4-008, Level 4, Plaza Low Yat, No.7, Jalan Bintang, Off Jalan Bukit Bintang, Bukit Bintang Central,
55100 Kuala Lumpur |Tel: (603)-2148 3651/3724/5141 | Email: seanaw@plazalowyat.com |Website: www.plazalowyat.com