Discover Australia – A Taste of Australia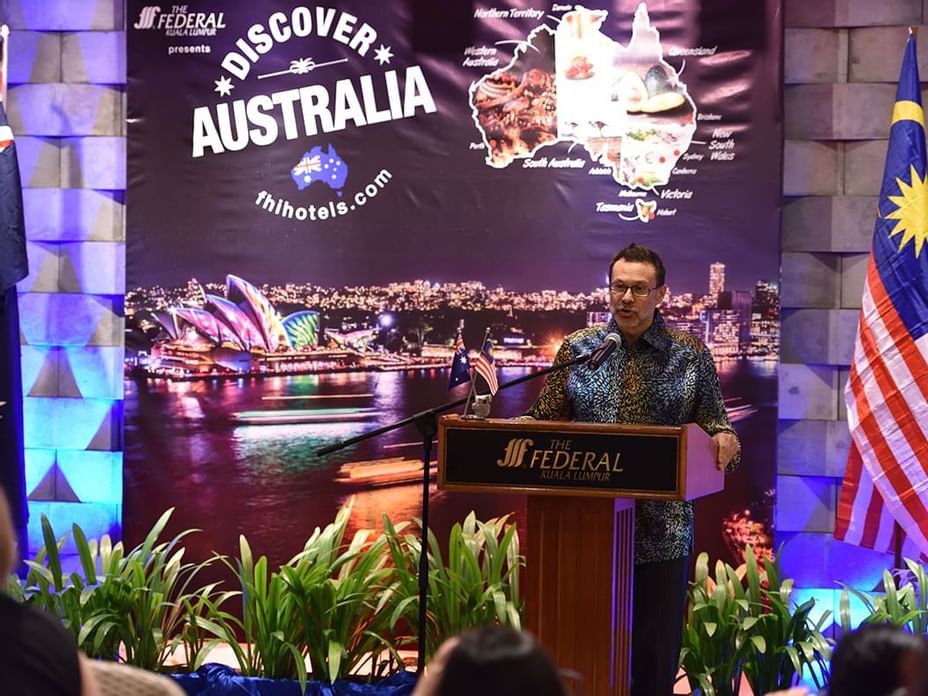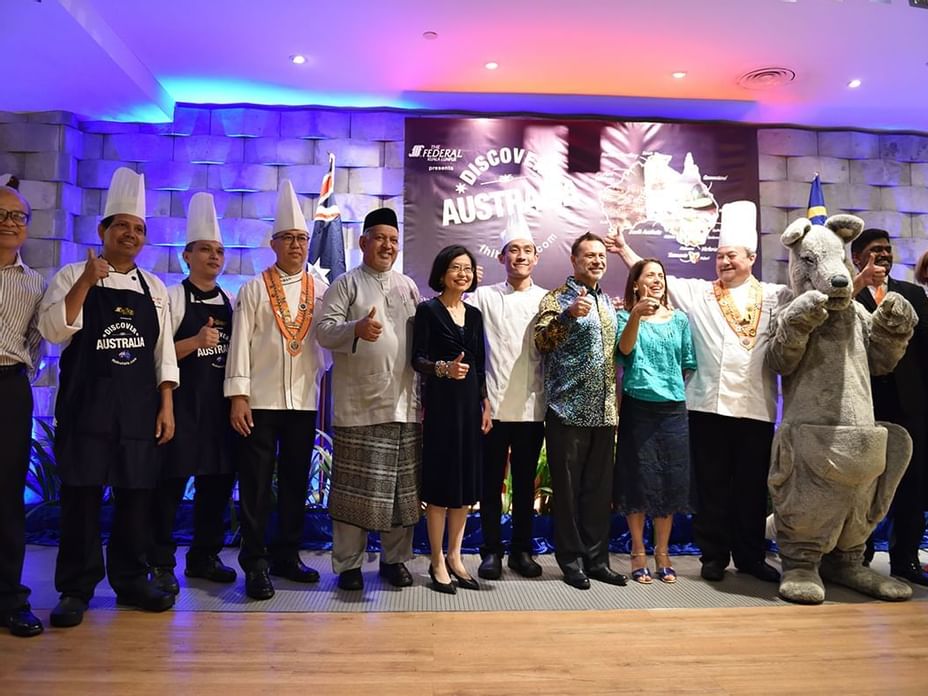 Discover Australia – A Taste of Australia is jointly organized by Federal Hotels International (FHI) together with its FHI Hotels in Kuala Lumpur and Sydney namely The Federal Kuala Lumpur and The Grace Hotel Sydney, with the support from the Australian High Commission, AUSTRADE, Tourism Australia and MLA Meat & Livestock Australia and Citibank.
Ms Ooi Lee Ping, Director of Group Marketing, Sales & Business Development and Operations of Federal Hotels International said "We are deeply honoured to have the Honourable Australian High Commissioner to Malaysia, His Excellency Mr Andrew Goledzinowski, to officially launch this inaugural Discover Australia – A Taste of Australia at the Kontiki Restaurant at The Federal Kuala Lumpur this evening. Australia and Malaysia celebrates over six decades of friendship, celebrating 63 years of friendship in 2018. The Federal Hotel was built to serve the needs of the Nation, as the Hotel is Malaysia's first international class hotel opened just three days before the Nation's declaration of independence, to provide accommodation exclusively for the foreign dignitaries and guests from overseas invited for our first Merdeka celebrations in 1957. Since then, The Federal Hotel has been the home for guests from all over the world including the former Australian Prime Minister of Australia Sir Robert Menzies who visited The Federal Hotel during his visit to Kuala Lumpur with his delegation in 1959. We believe Discover Australia – A Taste of Australia food festival will further foster the good bi-lateral relationship between Malaysia and Australia, as such meaningful initiative and partnership augurs well for bringing to Malaysians the authentic Australia favourite culinary food and tradition, which is a tribute to its history, culture and heritage. Malaysia has always remained a unique culinary melting potpourri and gastronomic paradise, a living testament of our Country's unique fusion of culinary experience. Discover Australia – A Taste of Australia is a celebration of Australian's food, beverage and cuisine and shares Australia multi-culinary culture and culinary education. In conjunction with the Worldchefs Congress & Expo 2018 in Kuala Lumpur, Federal Hotels International, The Federal Kuala Lumpur and The Grace Hotel Sydney present Discover Australia – A Taste of Australia, a gastronomic journey that will inspire your palates, your minds and your culinary souls with our award winning Chefs from the Grace Hotel Sydney, Chef Manager Darren Ho and Chef Tang Hou Chin, a member of the Australian Culinary National Team together with Chef Law Weng Seng, Chef Tan Kok Siong, and Chef Abdul Latif Mohamad Noor from The Federal Kuala Lumpur are to present a Taste Of Australia Food Festival. Our hearty sizzling Great Australian BBQ dinner at the Kontiki restaurant and their curated 3-course gourmet menu at the Bintang Lounge & Restaurant with the panoramic view of Kuala Lumpur skyline, is truly a feast for your senses. The Australian Barbeque is a huge tradition, and the Aussie BBQ is part of leisure time of food lovers' dream. We are delighted to welcome the World Association of Chefs to the vibrant city of Kuala Lumpur in conjunction with the bi-annual Worldchefs Congress & Expo 2018 in Kuala Lumpur where chefs from more than 100 countries come together as a united chef community. We understand that Sydney has been named as one of the top three cities shortlisted to host the World Chef Congress in 2022. We would like to say thank you to the Australia High Commission in Malaysia, Australia Trade And Investment Commission (AUSTRADE); Tourism Australia; Meat & Livestock Australia; Asiaeuro Wines & Spirits; Citibank, The Grace Hotel Sydney and Hotel Capitol Kuala Lumpur for their support in our Discover Australia – A Taste Of Australia food festival."
From now to 29 July you need not travel thousand miles way to taste the Australian cuisines, gastronomists and food lovers will be transported to the land of Down Under whilst dining within the adorned bespoke Aussie decoration ambience at both the Kontiki Restaurant and Bintang Lounge & Restaurant. The Federal Kuala Lumpur will take you to this culinary journey of Australian food extravaganza as guests are invited to taste the authentic Australian cuisines specially crafted by our award winning Chefs from The Grace Hotel Sydney. Helmed by Executive Chef Darren Ho and Chef Tang Hou Chin (Chef Chin), a member of the Australian Culinary National Team the Discover Australia Food Promotion commences on Friday, 13 July 2018 with a presentation of their curated menu exclusively available during the two-week long campaign. The Chefs will showcase their skills highlighting Australia cuisines that will truly feast your senses. For an Australian-inspired barbeque experience, explore our hearty sizzling Great Australian BBQ meats at the Kontiki Restaurant and the special East meets West set dinner at the Bintang Lounge & Restaurant. The Great BBQ Buffet at the Kontiki Restaurant highlighting the items such as Rack of Lamb marinated with Rosemary & Garlic, short beef rib with smokey BBQ lacquer, Rump Steak with Devilled Onions; Gourmet Sausages with Tomato & Chilli Jam; Chicken Kebabs with Lemongrass, Ginger & Garlic Relish; Sides - Idaho Potatoes with Sour Cream & Chives; BBQ corn on the cob with maple syrup & parsley butter; bakers basket of assorted bread; Chunky chips with nori salt; salad bar of coleslaw, roasted beetroot, English spinach, feta & candied walnuts, garden salads, caprese salad, and potato salad. For food lovers who prefer to have a fine dining in a romantic setting with majestic views of the city skyline, then you need not travel far but to book your table with one of Kuala Lumpur's most iconic and prestigious landmarks, Bintang Lounge & Restaurant. Offering East meets West menu comprising Amuse Bouche – demi tasse of Vichyssoise garnished with flying fish roe; Entrée (please choose one) – Caramelised sea scallops – stuffed with black bean compote. Served with fresh asparagus crumbed in panko & black sesame seeds and Spanish "La Mancha" saffron Beurre Blanc, De-boned Quail – poached in Grandfather's Master Soy Stock & Flash fried, served with five spice salt & apple Balsamic Glaze, Vialone Nano Risotto of Braised leeks, Melange of Mushrooms & Garnished with Grana Padano Parmesan "Crumble". King prawns in garlic & parsley beer batter & a dipping sauce of Agro Dolce Peach Vinegar. Main Course (Please choose one) Char Grilled Fillet of Beef with Ketchup "Leather", Roasted Eschallot Jam, Jus, on Paris Mash Potatoes & Broad Beans; Pave of Salmon Fillet poached in Extra Virgin Olive Oil with a Basil & Macadamia Pesto Crust, served on a Potato & Chive Dumpling; Ballontine of Chicken filled with Black Wood Fungus, Coriander & Pine Nuts, served on Basmati Rice, Seasonal Choy in Extra Virgin Olive Oil; and with Lemongrass, Ginger & Garlic Relish; Handmade Pappardelle Pasta with Wilted English Spinach, Shaved Fennel, Kalamatta Olives in Roasted Tomato Sauce, garnished with Torn Basil Leaves and Shavings of Grana Padano Parmesan; Dessert – Caramelised Lemon Tart with Coconut Sorbet; Yin & Yang of Chocolate; Buttermilk & Vanilla Bean Panna Cotta with Strawberry & Orange Salad Perfumed with Jasmine. The exquisite set menu and the great Australian will set to enthrall the palates of guests and gourmet lovers. G'day mate! Tuck into the Great Australian BBQ Buffet Dinner at the Kontiki Restaurant on Fridays, Saturdays & Sundays, 13 – 15 July, 20 to 22 July, 27 to 29 July 2018 from 6.00pm – 10.30pm located at Mezzanine Leve of The Federal Kuala Lumpur. The prize is RM148 nett (adult); RM55 nett (child) and RM74 nett (senior citizen); and the Australian Gourmet 3-course set dinner is available from 13 to 29 July 2018 at RM118 nett per person.
Members of Gracious Rewards & FHI Privilege Club can enjoy a 30% discount off and Citibank card holders will get a 25% discount off. Guests will get a chance to win many great prizes from our Dine & Win campaign such as 3 days 2 nights stay in a 10Room at The Grace Hotel Sydney inclusive of breakfast for 2 persons; 2 Days 1 Night stay in a Merdeka Wing Room inclusive of breakfast for 2 persons and one set dinner for 2 persons at Bintang Lounge & Restaurant; 2 Days 1 Night stay in a Capitol Deluxe Room at Hotel Capitol Kuala Lumpur plus nine fabulous dining for 2 persons at The Federal Kuala Lumpur. The lucky prizes will be drawn on Wednesday, 1 August 2018, and winners will be announced on 2 August 2018 via The Federal Kuala Lumpur Official Facebook: TheFederalKL.
About Chef Manager Darren Ho
Darren Ho is a Multi-Award winning Chef having won "Best New Restaurant" in Australia, "Restaurant of the Year" NSW Regional to Gold Medals in Restaurant of Champions at Salon Culinaires and Stars in Gourmet Travellers National Restaurant Guide. Close to his heart is the Hunter Valley where he headed up the region's culinary team to win the Foxtel Lifestyle Channel's Australian Regional Culinary Competition at Tasting Australia. He now heads up the food and beverage team at the Grace Hotel in Sydney where he will be spreading the love of food and wine to all and sundry!
About Chef Tang Hou Chin
Chef Tang Hou Chin from Malacca first started cooking professionally when he was 17. He studied at the prestigious Le Cordon Bleu in Sydney and finished his Advanced Diploma in Restaurant Management in 2013. Whilst he was studying at Le Cordon Bleu, he was introduced to the competition world by one of his head lecturer who is still one of his mentors currently; he competed in Fine Foods Salon in a couple of the categories and as a first time competitor did an outstanding job of winning a silver medal and a bronze medal in the open category. He was then selected to join the Battle of the Pacific in 2014 which was held in Auckland, New Zealand as a junior team member; the team comprised of two young chefs representing Australia and they managed to win gold medals and taking the trophy for Australia. In 2017, Chin joined the Fine Foods Competition and won 2 gold medals and a silver medal in three different categories, he took home the title of Bidfood's Most Outstanding Chef for that year. Chin is a current member of the Australian Culinary National Team and his cooking skills and knowledge continues to improve and flourish under the supervision of his Executive Chef and his constant competitions.