FHI Chinese New Year Festive Charity Treat 2012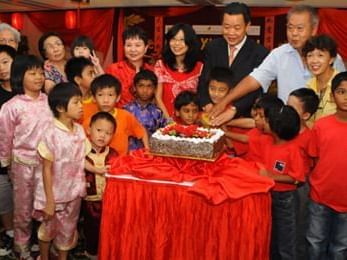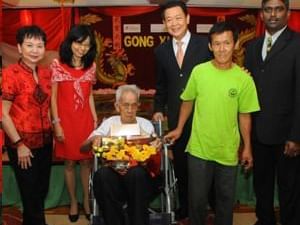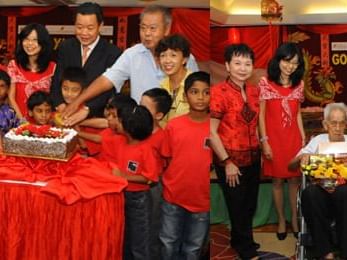 Enter The Dragon - Federal Hotels International (FHI) Group of Hotels in Kuala Lumpur namely The Federal Kuala Lumpur, and Hotel Capitol Kuala Lumpur welcome the auspicious lunar leap year of the Water Dragon. Our FHI Group Gong Xi Fa Cai! Happy Chap Goh Meh! Festive Charity Get together is an annual Festive charity event jointly organized by the FHI Group of Hotels, and this year will be held on Friday, 3 February 2012 at the Banquet Hall of The Federal Kuala Lumpur in conjunction with the auspicious year of the Water Dragon. To hive up the atmosphere, the old folks and children will be captivated by the grand welcome of the impressive Lion dance & dragon dance performance by Ti-Ratana Children Welfare Society Lion Dance troupe at the prosperity door of The Federal Kuala Lumpur. Enter The Dragon, the prosperity door of the hotel with complete festive imperial setting - an Imperial Garden Pavilion with magnificent décor and blossoms inspired by the Imperial Chinese courtyard setting. In the courtyard is the Chinese marble table with a Chinese tea set, the Garden is adorned with Chinese New Year festive decorations such as plum blossoms, kumkuat, chrysanthemums, red lanterns, majestic lion and a mystical celestial water dragon.
Ms Ooi Lee Ping, Director of Marketing & Regional Sales said "2012 is an auspicious year of the Year of the Water Dragon, and we believe that this happy lunar New Year of the water dragon will bring an abundance of Good Luck, Good Fortune, Wealth, Prosperity, Good Health, Success, Happiness, Peace, Unity & Harmony to everyone. This is our 10th consecutive year that Federal Hotels International together with our FHI Group of Hotels is organizing this GONG XI FA CAI Festive Charity event, and we hope that this gift from our hearts will bring more smiles, joy and happiness. There is no greater joy than be able to warm the hearts, spread good cheer and bring a smile to the old folks and children. Our FHI Group GONG XI FA CAI Festive Charity Event ispart of our continuous FHI Group sharing and caring community commitments. Traditionally Chinese New Year is a time for family reunion, a joyous occasion for family get together and Open House for family, relatives, neighbours, friends, colleagues and partners. We hope to share this memorable joyous occasion once again together with some 130 old folks and children from these three homes namely Ti-Ratana Welfare Society, Rumah Charis and Rumah Sayangan. We are very happy indeed that the Ti-Ratana Children Lion Dance and Dragon Dance Troupe ranging from 3 years old to 18 years old are joining us again to officially open up our Prosperity Door, to welcome these old folks and children as well as showcasing their spectacular acrobatic lion dance and dragon dance performance plus a rendition of a special Chinese New Year Dance Performance by the Ti-Ratana Children Dance Group. We have also organized a special fun team game for the old folks and children to participate this year - Chap Goh Mei Home Dragon Festive Decor. The old folks and children will be treated to a sumptuous Chinese New Year Prosperity Lunch inclusive Yee Sang and traditional Chinese New Year favourites. Loh Hei! Loh Hei! To celebrate this auspicious Happy Lunar Laep Year and team spirit of joy and togetherness, the Management & Staff from Federal Hotels International & FHI Group of Hotels will toss theProsperity Lo Sang together with the old folks and children for Good Luck, Good Health, Happiness, Good Fortune, Prosperity, Success, Peace, & Harmony always. Everyone will participate in this auspicious traditional Lo Sang with their chopsticks in hand, to toss and mix the colourful vegetable salad comprising all the ingredients together, with lots of happy & prosperous wishes shouted loudly amidst smiles, laughter and spirit of togetherness, as the ingredients are tossed as high as possible, the higher you toss the greater your good fortune & good luck for the coming auspicious Chinese New Year of the Water Dragon. We want the old folks and children to remember and enjoy this special day, most importantly, we want them to know that we care and remember them during this joyous festive Lunar New Year".
A gift of mandarin oranges, groundnut and Chinese New Year cookies is a tradition during Chinese New Year festive visits to families, relatives and friends. We will also be presenting a special Gong Xi Fa Cai festive hampers to all three Homes as well as to the oldest old folk aged 94 years old. Every old folk will also receive a special gift. All the old folks and children will also receive Ang Pows, mandarin oranges and other festive gifts.Our FHI Team has decorated the Banquet Hall in Chinese New Year auspicious festive colours of red and gold denoting good luck, good fortune and prosperity and with kumquat, white pussy willow and many more. Each brings a special meaning, for example the kumquat is a symbol of good luck, prosperity & wealth whilst the white pussy willow is a symbol of longevity.
The Prosperity Yee Sang is specially prepared by our Executive Chef and his team of Chefs from The Federal Kuala Lumpur comprising raw salmon fish, jelly fish, white radish, carrot, preserved winter melon, fresh and pickled ginger, pomelo, coriander leaf, crispy crackers, chopped roasted peanuts, sesame seeds, picked onion slides and papaya slides. To dress the Yee Sang, sweet sour plum sauce with a drizzle of oil, lime juice, five spice powder and a dash of white pepper will be used to pour over the Yee Sang. Each and every of this exquisite ingredients has a special meaning or a symbol of good meaning i.e. crackers represents Happiness, peanut and sesame seeds signify Harvest, oil represents Wealth, pamelo stands for Good Luck. The concoction of red, orange, green, gold, white and brown colour of the Yee Sang makes the dish a colourful feast for everyone to savour.
By courtesy of Ti-Ratana Welfare Society, an exciting kung fu and acrobatic performance by the Shaolin troupe from China and the cultural Chinese art of "Mask Changing" by Mr Suresh of Ti-Ratana Welfare Society won thunderous applause from the audience.
The Management & Staff of Federal Hotels International and our FHI Group of Hotels wish everyone Gong Xi Fa Cai, Good Luck, Good Health, Good Fortune, Wealth, Peace, Harmony, Prosperity & Happiness Always!