FHI is now partner of Enrich, Malaysia Airlines loyalty program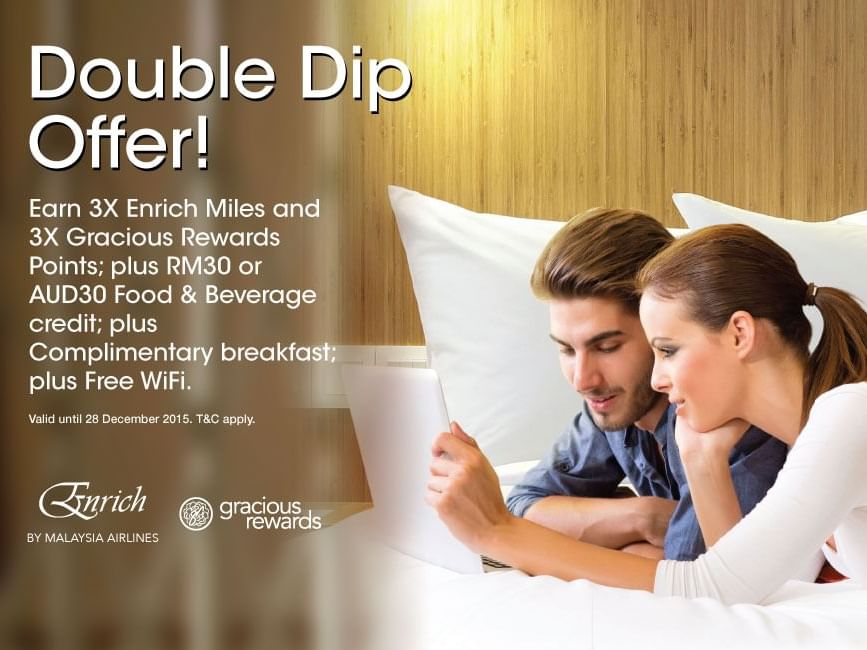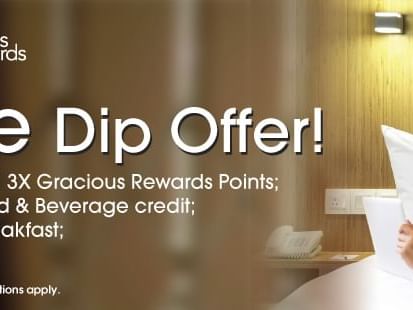 Federal Hotels International (FHI) Group of Hotels is pleased to announce the launch of our partnership with Enrich, Malaysia Airlines loyalty program to bring more miles-earning avenue to Enrich members
To commemorate the partnership, Enrich members will have the opportunity to earn 3X Enrich Miles when they book their stay at the Newly renovated Merdeka Wing Room or Merdeka Suite at The Federal Kuala Lumpur; Premium Room or 10Rooms at Hotel Capitol Kuala Lumpur; and Deluxe Room or Premium Room or 10Rooms at The Grace Sydney from now onwards until 28 December 2015.
On top of that, Enrich members will also be treated to a 'Double Dip' offer for their stay which includes additional 3X Enrich Miles, 3X Gracious Rewards Points; plus RM30 or AUD30 Food & Beverage voucher as well as Complimentary Breakfast and Free WiFi.
Malaysia Airlines' Head of Enrich & Loyalty, Khairul Nisa Ismail, said: "Our members can take this opportunity to explore FHI Hotels in Kuala Lumpur and Sydney and selecting Malaysia Airlines Berhad as their preferred airline to travel with. This partnership allows us to add the benefit of Enrich members earning Enrich miles when they stay at any of FHI Hotels in addition to miles accrual via flights. This is truly embracing lifestyle beyond flying just for Enrich members."
Meanwhile, Ooi Lee Ping, Director, Group Marketing, Sales & Business Development and Operations of Federal Hotels International said "We are delighted to partner with Enrich, as this will certainly provide even greater benefits to our mutual valued guests, to both members of Enrich and members of Gracious Rewards, FHI's Guest Recognition Rewards Programme. Our guests are our best ambassadors and such an alliance will further enhance our customer-centric loyalty programmes to serve our mutual customers the very best they deserve, and allow us to cultivate even greater loyalty with travellers in the global travel markets."
"It affirms our dedication to enhancing the overall guest experience and is our way of saying thank you to our loyal patrons who have remained loyal to us over the years, enabling them an additional option to spend their loyalty points, earn flight rewards and travel even more. Our Double Dip offer during this special launch promotion provides an even more rewarding experience, by earning hotel points and airline miles in any of our participating FHI Hotels in Kuala Lumpur or Sydney" Lee Ping added.
To redeem their Enrich Miles, members can log on to Enrich online at www.enrich.malaysiaairlines.com, contact Malaysia Airlines' 24-hour Call Centre at 1 300 88 3000 or visit any Malaysia Airlines ticket office.
For further information can be found at enrich.malaysiaairlines.com.my
-End-
About Enrich
Enrich, Malaysia Airlines Frequent Flyer Programme (FFP) brings you a world of privileges and preferential treatment. Earn Enrich Miles when you fly with Malaysia Airlines, oneworld member airlines and Enrich partner airlines. Also earn Enrich Miles with your credit card spending, when you rent a car, shop, indulge in recreational activity with our lifestyle partners, and so much more. To sign up for Enrich, visitwww.malaysiaairlines.com or download MHmobile app and start enjoying a world of benefits and privileges on Malaysia Airlines.
About Federal Hotels International
Federal Hotels International has over five decades of experience in the Hospitality industry. Federal Hotels International manages two Hotels in Kuala Lumpur and one Hotel in Sydney namely The Federal Kuala Lumpur, Hotel Capitol Kuala Lumpur and The Grace Sydney.
Federal Hotels International (FHI) is a pioneer Malaysian Hotel Management Company, established to manage the First International Hotel in Kuala Lumpur i.e. The Federal Kuala Lumpur. FHI collection of Hotels are located in some sensational locations. From the heart of the City's Central Business District to the pulse of the best shopping, entertainment to gourmet paradise, you'll find a FHI Hotel to suit your every need. From business travel to meetings, conferences to weddings, honeymoon and anniversary, or just a short weekend Shop N Shop break, or a rest & relax holiday, our fine collection of Hotels will complement your business trip or vacation gateway, ensuring it is a successful and enjoyable one. Our warm FHI hospitality, a friendly face and gentle charm, and warm welcome awaits our guests, add to that our great locations, will ensure that your stay with us will be that much more, well…truly sensational!
About Gracious Rewards
Recognizing our Guests' Loyalty - Welcome to the rewarding world of Gracious Rewards
Created especially for Federal Hotels International Group of Hotels' most valued guests, Gracious Rewards is a Guest Recognition Rewards Programme by Federal Hotels International (FHI) exclusively for our valued regular guests who grace our FHI Hotels in Kuala Lumpur and Sydney. It is our way of saying "Thank You" for our Guests' continued gracious patronage and support. Our philosophy is simple – making our guests feel more than a warm welcome every time they stay and to continue to create an enjoyable and effortless experience for our guest, and to offer exclusive privileges to enhance their stay with us as our guests are our best ambassadors. The Gracious Rewards experience begins the moment our guest arrives at any hotel in the FHI Group. In addition to the unique brand of hospitality guests have come to expect from our FHI Hotels, guests will enjoy a range of attractive privileges.