The 7th Latin American Festival Cheque Presentation on 15 June 2015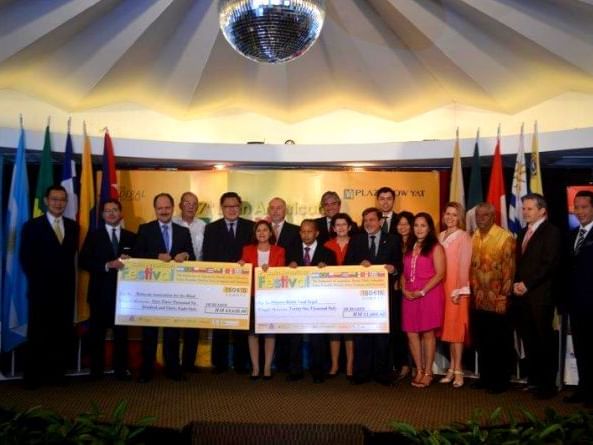 Mr Steven Chong, Area Director of Low Yat Group, Bukit Bintang Properties said "The 7th Latin American Festival is jointly organized by Plaza Low Yat, the Federal Hotels International Group of Hotels namely The Federal Kuala Lumpur and Hotel Capitol Kuala Lumpur and all the 10 Latin American Embassies namely Argentina, Brazil, Chile, Colombia, Cuba, Ecuador, Mexico, Peru, Uruguay and Venezuela, in collaboration with Dewan Bandaraya Kuala Lumpur (City Hall of Kuala Lumpur) making this 7th Latin American Festival a massive success. We are pleased that BB Park, the place for showcasing colourful diversity of our rich Malaysian culture, food, arts and heritage to the world, is also now popularly known as the cultural exchange point for both the local and expatriate community as well as tourists. BB Park was transformed into a colourful and carnival like atmosphere. The response for this year was overwhelming, the crowd's size was more than double the number of last year, making BB Park the Place for the celebration of food, arts and culture filled with merry and flair! We would like to express our heartfelt appreciation for the support of Kuala Lumpur City Hall (Dewan Bandaraya Kuala Lumpur) in turning this event as one of the biggest events held so far at the Plaza Low Yat Boulevard. We would also like to thank our tenants from Plaza Low Yat for contributing Prizes to raise funds for Charity which include amongst others such as Acer Iconia One 8, Logotech G230 Stereo Gaming Headset, Hyundai X4, Ipro Sense Gii, Joi 8 Wifi Tablet, Vivo X3S, and Vivo Y28. In accordance to this highly acclaimed culturally enriching occasion, each of the ten Latin American Countries sold their traditional food and beverages, original handicrafts, and provided tourist information emphasizing on each Country's multi-racial and multi-cultural diversity. The highlights of the day were the very much anticipated colorful entertaining traditional and contemporary performances by each Country and, of course, the lucky draw with winners going home with very attractive prizes.
Ms Ooi Lee Ping, Director of Group Marketing, Sales & Business Development and Operations of Federal Hotels International said "For the fifth consecutive year, the 7th Latin American Festival held at bbpark on Sunday, 17 May 2015 proved to be another great success! The 7th Latin American Festival at BB Park has once again spiced up the Bukit Bintang and KLCC shopping, dining and entertainment hub in Kuala Lumpur's Golden Triangle with its overwhelming response from the public. The 7th Latin American Festival has been a great opportunity for all to experience the rich culture of Latin America, handmade arts & crafts, traditional music & dance, as well as have a delicious taste of Latin American flavors. The Food stalls which offered a feast for all the senses, with food from across the ten Latin American Countries. The myriad of hand made art and craft stalls give a real sense of the culture and history of each of these vibrant Latin American Countries, through their intricate tapestries, stylish leatherwork and beautiful jewellery. The magical display of vibrant colors and pulsating vibes of Latin American music and rhythms, food, dances be it Salsa, Samba or Tango, art & craft as well as the colourful Latin American beats and traditional plus contemporary performances and Capoeira have wowed the crowds. Children from the 10 Latin American Countries namely Argentina, Brazil, Chile, Colombia, Cuba, Ecuador, Mexico, Peru, Uruguay andVenezuela were dressed in their lovely traditional costumes of their respective Countries. We are delighted to see that this 7th Latin American Festival has once again drawn in people - locals, tourists, shoppers, diners, Latin American communities and expatriates to this hugely successful event. Traditionally, this Festival is organized every year to support Charity programmes and other institutions in need devoted to Malaysians in need. We are most happy that Federal Hotels International Group of Hotels namely The Federal Kuala Lumpur and Hotel Capitol Kuala Lumpur have also participated in this meaningful Fund Raising campaign in aid of the Malaysian Association for the Blind (MAB); and the Disaster relief fund for the Nepal earthquake crisis, channeled via the Embassy of Nepal, which is one of our FHI Group's continuous Sharing & Caring Community Commitments."
The 7th Latin American Festival has become a tradition in Kuala Lumpur, thanks to the growing interest of Malaysians in learning about the customs of these distant nations. This acclaimed colourful and meaningful event is a great opportunity for the whole Latin American community living in Kuala Lumpur and the Klang Valley, to get together, to celebrate and share their culture with the locals. BB Park has now become a place where tourists and KLites alike drop by to enjoy music, cultural dance, live band as well as to wine and dine or chill out in the many food and beverage outlets, and it has evolved into a hub where contemporary lifestyle and culture meet. The interest for Latin America in Malaysia, and in Asia in general, is increasing daily. Its movies, TV dramas, paintings, theatre, literature, soccer, beauty contests, the salsa, samba and tango, its rapidly growing economy, besides the impressive images of The Amazon, The Andes and The Caribbean have prompt curiosity, admiration and desire to know more about this continent and their cultures.