The Federal Kuala Lumpur Children X'mas Fun Fair Party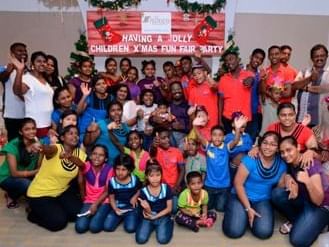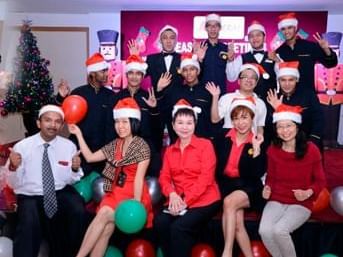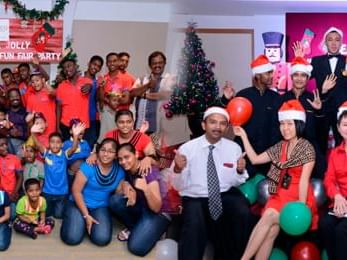 Federal Hotels International (FHI) and The Federal Kuala Lumpur brought Festive joy to the children and families with a fun filled exciting afternoon on Christmas day, 25 December 2015 at The Federal Ballroom I. The Children Christmas Fun Fair Party is an annual event organised by Federal Hotels International and The Federal Kuala Lumpur. The Ballroom foyer leading to the Ballroom I turned into a Mini Carnival with a superb range of games to create a carnival atmosphere, classic carnival game attractions of fun fair game stalls such as the Spin the Wheel, Ring Toss, Hook Me, Pinball, Ball the Crown, High Score Roller, High Score Ping Pong, Sharpshooter including Loop ring through curvy rod from top to bottom! (If the ring touches the rod, there will be a beep and you'll have to start all over!) and more! Play, Win and Redeem the many attractive prizes and many more. All the fun of the Fair!
The Ballroom was filled with lots of laughter as the families and children had a great and fun time playing the variety of Fun Fair carnival games including when magical clown presented his magical tricks to the children much to the amusement of the children whilst the Santa Claus and Santarina went round mingling with the crowds which brought more cheers to the crowd.
The Federal team of Chefs specially created the Christmas Menu for the Children Christmas Party for the diners to savour, and everyone were treated to a lavish festive spread specially prepared by the Hotel to mark the merry festive occasion. The menu includes smoked salmon platter, terrine in spoon, shrimps cocktail in spoon, chicken galantine platter, assorted mixed lettuce, nicoise salad, German Potato salad and many more. Among the festive culinary highlights are roasted turkey with stuffing, provencale herb jus and cranberry sauce; roasted lamb leg with black pepper cream sauce and mint sauce; jigger braised lamb shank in aromatic herbs and tomato sauce; silent braised Chicken with mushroom and root vegetables in rich chicken gravy; roasted duck with green curry gravy Thai style; wonderland roasted herbs potatoes; white X'mas sautéed brussels sprout with onion and bacon; crab meat ball with bbq sauce; visit our action stalls manned by the wonderful team of chefs, visit our stalls comprising Chicken rice, Penang hokkien mee, pasta station, variety of dim sum, chicken and beef burger with fries, waffle with assorted jam; satay chicken & beef, the famous ice kacang, just to name a few. Other yummy offerings include soup corner that serves French onion soup with cheese toast which comes with butter and soft bun, plus other delectable delights such as the sandwiches corner – pick your choice of chicken ham, tuna fish, and egg mayo. Mouth-watering desserts include Vanilla Yule Log, Stolen, Assorted French Pastries, Cendol Pudding, Mango Pudding, Honey Dew Pudding, Almond Peach Tart, Bread and Butter Pudding, Cherry Flan, Chocolate Cake, Cheese Cake, Strawberry Roulade, Cream Caramel, Christmas Pudding, Christmas Fruits Cake, Minced Pie and assorted fresh fruits.
Ms Ooi Lee Ping, Director of Group Marketing, Sales & Business Development and Operations of Federal Hotels International said "As part of our continuous caring and sharing commitment, Federal Hotels International and The Federal Kuala Lumpur invited the children from the Sanctuary Care Centre Home to join in this Children Christmas Party. Christmas is the perfect time for sharing and caring, and we hope to share this memorable joyous occasion with the children. it is so wonderful to see so happy smiling faces in high spirits enjoying the scrumptious festive buffet treat with a lavish splendour of festive delights, enjoying the Fun Fair games on this heartwarming Christmas Day. It is our hopes of spreading festive cheer as we wanted the children to know that we care and remember them during this joyous festive season. It is an integral part of what we believe in, as Children are the future and we believe in inspiring them to believe in a better tomorrow. It is also great to see all diners and their families who have continuously joined us in our annual Children Christmas Party, having a great family time together as well. To add in a more memorable Christmas sparkling moment, we set up a Christmas photo wall for everyone to either take Wefie or Selfie photos and family photos too, making a terrific chance to grab some holiday family snaps!"
Mr Muhammad Irwan Goh, Executive General Manager of The Federal Kuala Lumpur said "Christmas is a season of giving, and to cherish the joyful spirit of Christmas with Family, Friends and extended families too. It's the time of the year when The Federal Hotel again celebrate the joy of giving, and to embrace this festive spirit and festivity with one another, and we hope to spread happiness and joy to the children from the Sanctuary Care Centre Home during this Christmas Festive treat. This is our way of giving back to the community and We have always strived to engage with the community and hope to share our joy in a meaningful way."