The Grande Dame of Kuala Lumpur Embarks on a Year of Celebrations in 2017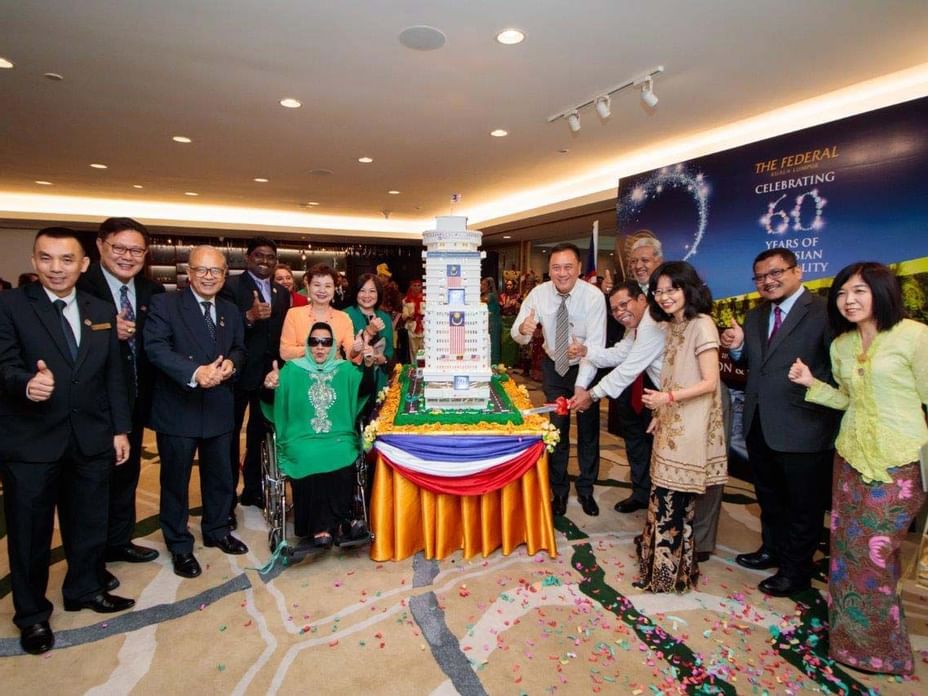 The Federal Hotel was built specifically to serve the needs of our Nation. The Federal Hotel is more than a Hotel, it is a piece of Malaysian history & heritage, and it is the Hotel for Merdeka as the Federal Hotel is Malaysia's first international class hotel opened just three days before the Nation's declaration of independence on 28 August 1957 to welcome all VIPs, foreign dignitaries and diplomats who arrived in Kuala Lumpur to witness Malaya celebrates her independence on 31 August 1957 at Stadium Merdeka. The Federal Hotel was officially opened by the late Y.T.M. Tunku Abdul Rahman Putra Al-Haj or better known as Bapa Malaysia, just in time for the Merdeka Celebrations 60 years ago. The Federal Hotel itself was developed and built from encouragement from our Government and personal support from our Nation's founding fathers, the late Tunku Abdul Rahman and the late Tun Razak, as well as the foresight and pioneering spirit of the late Tan Sri Dato' Low Yat.
Ms Ooi Lee Ping, Director, Group Marketing, Sales & Business Development and Operations of Federal Hotels InternationaL said "2017 marks another milestone for The Federal Kuala Lumpur for as Malaysia celebrates our 60th Merdeka Celebrations, Federal Hotel too celebrates its 60th Diamond Jubilee year in the Malaysian Tourism & Hospitality industry. Today, we look forward to sharing our "Federal" memories, as well as creating new ones with all of you. The Federal Hotel is linked to the past, present and future of Malaysia and the City of Kuala Lumpur. Federal Hotel is proud to share a close and inter-connected history with the birth and growth of our Nation. 60 years on, today we honour the aspirations and celebrate the sacrifices made to free our Country to gain independence. We all, as Anak Anak Malaysia, sit here today, as lucky beneficiaries of our founding elders' hard work and sacrifices; we should therefore remember the legacy and vision they had for a harmonious Malaysia that truly reflects its rich multi-racial and multi-cultural heritage. Over the span of 60 years in the Malaysian Hospitality, Federal Hotel has played host to many local and international events, and was the home to both international as well as local artists and singers, badminton players participating in the Thomas Cup/Uber Cup as well as the Merdeka Cup. This August, we are proud to be the host for one of the current SEA Games Team Contingents, the Myanmar Team. The Federal Hotel's first 60 years read as a fascinating story of success and achievements against the many challenges of pioneering development and innovation, which now see Federal Hotels International (FHI) recognized as one of Malaysia's Pioneer Home Grown Hospitality Brand providing excellent quality hotel accommodation, consistent service and enhancing the guest experience, creating different concepts to cater to the diversity of contemporary, discerning and affluent travellers. Throughout its 60 years, The Federal Kuala Lumpur have always been at the forefront in the hospitality industry as we are constantly looking at the creation and evolution of our hotel products and services in order to meet the wants and needs of today's business and leisure travelers. True to The Federal Brand, our Team are embracing the changing demands of today's more independently minded travelers, whilst continuing our tradition of providing effortless experiences and warm friendly Malaysian Hospitality. We are proud of the debut of The Federal Hotel's renovated Merdeka Wing Rooms, Ballrooms, Kontiki restaurant and the Verandah lobby lounge. As The Federal Hotel celebrates 60 years of Malaysian Hospitality, it is a tribute to all our Management Team & Staff at Federal Hotels International and The Federal Kuala Lumpur, the people behind our success, a salute to everyone, our valued supporters and customers for their tremendous continuous support and worked with us to put The Federal Kuala Lumpur where we are today as well as our heartfelt thanks to our thousands of guests. While we improve with the times, we are always mindful in keeping the 'character and soul' of The Federal Kuala Lumpur. This will solidify our Brand's positioning in not only providing an impeccable modern-styled living in unparalleled comfort, but also in offering a premier hospitality experience for all. We believe that our tradition of warm friendly Malaysian Hospitality and care delivered by our Federal Team will be well received by our Hotel's guests and community as every little thing we do at our FHI Group of Hotels inspires us to create a rewarding experience for our Hotel guests, our Team members and our Communities. Federal Hotels International and The Federal Kuala Lumpur have always been on the forefront for their commitment to preserve our culinary dishes which is an important part of our rich culture and heritage for the enjoyment of our future generations. The popular Favourite Dishes from the Tunku's Kitchen Cookbook is a great collector's gift! To celebrate this double joyous occasions in paying tribute to our Bapa Malaysia, the late Tunku Abdul Rahman Putra Al Haj, our first Prime Minister of Malaysia, the team of Chefs from The Federal Hotel Kuala Lumpur has specially selected recipes of Tunku's favourite dishes from Favourite Dishes from the Tunku's Kitchen cookbook for guests to savour such as Roasted Prime Ribs with Yorkshire Pudding, Cream of Mushroom Soup, Ikan Goreng Serai; Sambal Udang Petai; Itik Golek; Ketam Masak SOS Tomato; Sambal Sotong; Opor Ayam; Telur Cuka; Gulai Siam Daging; Bubur Pulut Hitam, Ubi Kayu Gula Kabung, Banana Delight, Mixed Fruit Jelly and Coconut Custard. Tunku's favourite dishes are a combination of many of the well beloved treats from traditional Local as well as Western recipes, it is a sumptuous feast for the senses and a tantalizing insight into the unique rich cultural culinary diversity & heritage of Malaysia, Truly Asia"
To commemorate The Federal Kuala Lumpur's 60th Anniversary celebrations as well as the Nation's celebrations of 60th Anniversary of Malaysia Independence, The Federal Hotel has lined up a few meaningful activities in our calendar of events, our Hotel's journey through this celebratory year:
Modern Grand Hotel – A Story Telling musical this September

The line-up includes Nanyang Songstress Yudi Yap, renowned Chinese dialect conservator Chong Keat Aun, the acclaimed actor and and television host Goh Wee Ping, award-winning acclaimed theatre director Loh Kok Man with multi-talented music director Tay Cher Siang leading WVC Jazz Ensemble collaborating for this event. This extraordinary concert will be presented in multi lingual environmental theatre by Modern Nanyang, with reputation established since the successful staging of Kopisusu musical concert. This meaningful story telling concert will be staged from 8, 9, September 2017 to 15, 16 and 17 September 2017 at the Ballroom.
Friday, 8 September to Saturday, 9 September and Friday, 15 September to Sunday, 17 September
Dinner + Show: RM212nett per person (Dinner 6.30pm, Show 8.30pm)
17 September
Lunch + Show: RM212 nett per person (Lunch 12.30pm, Show 2.30pm)
Show only: RM150nett per person
20% discount offer for Senior Citizen (above 55 years old) and for guests who book the exclusive The Federal KL's 60th or Hotel Capitol KL's 20th Anniversary Indulgence Packages; and 25% discount offer for Gracious Reward Members and FHI Privilege Club members.
The Federal Kuala Lumpur joined hands together with its sister hotels namely Hotel Capitol Kuala Lumpur and The Grace Sydney to launch the Anniversary Indulgence package for guests to enjoy:
The Federal Kuala Lumpur's Happy 60th Anniversary Indulgence starts from RM260++ per Merdeka Wing Room per night inclusive RM60 Food & Beverage cash voucher; Anniversary Drink Special "The BB" at The Verandah and complimentary WiFi in room.
Hotel Capitol Kuala Lumpur's Happy 20th Anniversary Indulgence starts from RM220+ per Deluxe per night inclusive RM20 Food & Beverage cash voucher; Anniversary Drink Special "The BB" at Café Rasa and complimentary WiFi in room.
The Grace Sydney's Happy 20th Anniversary Indulgence starts from AUD220 per Superior inclusive AUD20 Food & Beverage cash voucher; Anniversary Drink Special "The Grace Sling" at Piano Lounge and complimentary WiFi in room.

The Federal's Fun with 60 creative photos social media contest - we will be raffling away free room stay vouchers in this social media contest – The Federal's Fun with 60 Contest. The Grand prize is a 4D3N stay in a 10rooms at The Grace Hotel Sydney + breakfast for 2 persons + wifi supported by The Grace Hotel Sydney + Lenovo Ideapad 510S Laptop supported by Plaza Low Yat. Participants also get to win other prizes such as the 3D2N stay in a Merdeka Wing Room at The Federal Kuala Lumpur inclusive breakfast for 2 persons, a set dinner for 2 persons in Bintang Revolving Restaurant + wifi + Samsung J7 Pro. There will be a total of Top 6 fabulous room stay vouchers to be given away plus a weekly prizes to be won for 6 weeks.

The first revolving restaurant in Malaysia, Bintang Revolving Restaurant located on Level 18 is offering A Taste of Merdeka Indulgence –a 3-course extravagant Merdeka gourmet set dinner for the month of August at RM98 nett per person. Kids eat free with every paying adult.

Kontiki at the Mezzanine level offers the exciting taste of Southeast Asia Buffet Galore in August. Whether you are taking the Buffet Lunch, Weekend Hi Tea or the BBQ Seafood Buffet Dinner, diners will be tempted with this vast array of Southeast Asia buffet galore ranging from Malaysia, Philippines, Singapore, Thailand, Vietname, Myanmar, Cambodia, Loas to Indonesia. Buffet lunch is priced at RM98 nett per adult; Weekend Hi Tea at RM78 per adult and the BBQ Seafood Buffet Dinner is priced at RM128 nett per adult.
Let's celebrate this historic moment at The Federal Hotel as the country celebrates the 60th Anniversary of Independence and the Federal Hotel celebrates its 60th Glorious Years in the Malaysian Hospitality.
Syabas! Mari bersama menyambut Kemerdekaan ke-60 Tahun Malaysia!
Selamat menyambut ulang tahun ke-60 The Federal Kuala Lumpur bersempena dengan sambutan ulang tahun ke-60 Kemerdekaan Malaysia!
Let's Fly the Jalur Gemilang. Negaraku Sehati Sejiwa.
Malaysia Truly Asia.