FHI Group of Hotels participated in Earth Hour 2014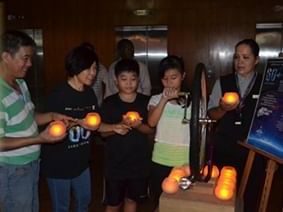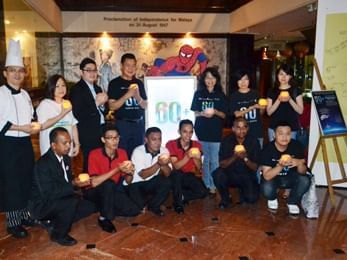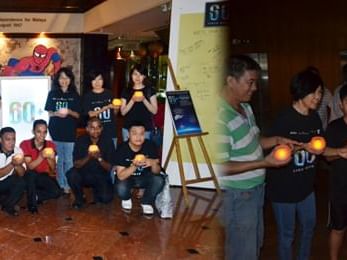 Federal Hotels International (FHI) Group of Hotels namely The Federal Kuala Lumpur, Hotel Capitol Kuala Lumpur and The Grace Hotel Sydney participated in Earth Hour by turning off the lights on Saturday, 29 March 2014 from 8.30pm to 9.30pm
that includes the main building's exterior lighting; guests were encouraged to switch off their room lights with minimal lights on; minimal lighting in guest corridors, lobbies, and restaurants, turned off the non-essential lights and candle light dinners in all the hotels' restaurants.
Earth Hour is a global event organised by the World Wildlife Fund (WWF) to raise awareness about climate change. To honour this global event, The Federal Kuala Lumpur and Hotel Capitol Kuala Lumpur had planned a number of activities:
Countdown to Earth Hour at 8.30pm

Use Your Power to Pedal for the Planet

Guests are invited to write their pledge on the board provided at the front entrance of the hotel.
Ms Ooi Lee Ping, Director of Group Marketing, Sales & Business Development and Operations of Federal Hotels International said "Earth Hour started in Sydney, Australia in 2007, when 2.2 million individuals and more than 2,000 businesses turned their lights off for one hour to take a stand against climate change. It has now become the world's largest mass participation event annually. Federal Hotels International Group of Hotels in Kuala Lumpur and Sydney namely The Federal Kuala Lumpur, Hotel Capitol Kuala Lumpur and The Grace Hotel Sydney have once again Join Team Earth Hour - joining millions of people around the world to switch off lights for 1 hour to raise further awareness for our planet on Saturday, 29 March 2014 at 8:30pm! It is the sixth consecutive year for The Federal Kuala Lumpur and Hotel Capitol Kuala Lumpur participate in this global annual event, and the seventh consecutive year for The Grace Hotel Sydney. This year, The World Wildlife Fund decided to partner with the movie release, "The Amazing Spider-Man 2" as Peter Parker is perceived as a hero, and an inspiration, so it is fitting that he join forces with Team Earth Hour to empower every single individual to help Save the planet as within each and everyone is the power to achieve Greatness and Save our Planet!"
See your world in a whole new light.
Switch off and support WWF's Earth Hour.
Uniting people to protect the planet.
Be part of this fantastic global event again – and show world leaders there's still a job to be done on tackling climate change.Feel the excitement of linking-up with one billion people across the planet by switching off your lights for one hour.